February/March 2011 print edition of Contractor Supply magazine
The following selected stories appeared in the February/March 2011 issue of Contractor Supply magazine.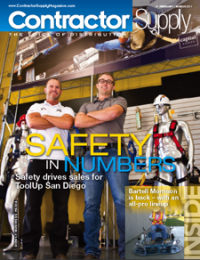 Cover Story:
Safety in Numbers
Safety drives sales for ToolUp San Diego.
STAFDA News February/March 2011:
STAFDA Announces Webinar Series

Suppliers: Bartell Morrison is Back
With the company back under private ownership, an all-star team leads BMI's charge back into the United States market.
Selling Smart: Selling Safety
Have your resources at the ready to sell more safety and PPE equipment.
Distribution Consultant: Jason Bader: Five Keys to Making Money, part 2
Inventory Consultant: Jon Schreibfeder: The Triangle of Cooperation