October/November 2016 print edition of Contractor Supply magazine
The following selected stories appeared in the October/November 2016 issue of Contractor Supply magazine.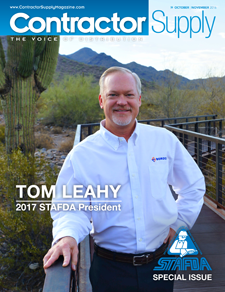 Cover Story: Wide Open Spaces
With next-generation services, 2017 STAFDA president Tom Leahy and Border Construction Specialties are ensuring that Border is a name with no limits.

Click the links below to download PDFs of the following articles
STAFDA 2016 Convention Guide, including:
STAFDA 2016 Session Previews:
STAFDA Consultants:
STAFDA Tech Pavilion 2016 Preview

STAFDA New Products — 18 Pages of New Products!
Special Features:
Industry Updates: