Southwest Fastener Launches New Website
Site features easy navigation, over 14,000 products and numerous resources for contractors.
---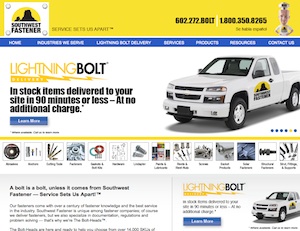 Southwest Fastener (profiled in the April/May 2010 Contractor Supply) is pleased to announce the launch of its fully-revamped website at www.swfastener.com. The new site went live on Friday June 21st, 2013.
The new site features improved navigation and functionality throughout, allowing customers to access detailed product information, resources and technical support.
The website boasts a modern, industrial, and bright design created by TMB Partners (www.tmbpartners.com). It is divided into seven sections: About Us, Industries We Serve, Lightning Bolt Delivery, Services, Products, Resources, and Contact Us. Each page provides detailed information on all seven aspects of the company's functioning.
Mike Birkhold Vice President of Southwest Fastener said, "The new website presents to our customers an updated look at Southwest Fastener. It presents the 14,000 products we carry, our multiple locations and our overall commitment to customer service. All of this in a modern new campaign showing what the "Bolts Heads" at SWF are all about."
The launch of the new website, which offers quick and easy access to essential information on Southwest Fastener, and its products offered, is part of the company's ongoing effort to offer its customers the highest quality of service.
The site includes extensive product information to help customers understand Southwest Fastener's complete range of fastener solutions, such as technical data, and specific product PDFs that give the customer all the information they might need. The new website means that customers can now benefit from richer online content that is easier to navigate and share with others, assisting the specification process. This is a result of talking with customers and gaining valuable feedback.
The website's database includes more than 14,000 SKUs from suppliers such as Aervoe, Lindapter, UNISTRUT, Simpson Strong Tie, ALCOA, MARSON, ITW Buildex, NUCOR, Caddy, Norseman, Cooper B-Line, Powers Fasteners, and ELCO to name a few.
Other user-friendly features include an Imperial to Metric User Scale, Credit Application, Product Catalogs, Tax Exemption Certification Form 5000, and full access to Southwest Fastener's Spec Sheet library.
Other new functions include access to Southwest Fastener's four branch locations via Google map and the possibility to connect with The Bolt-Heads on multiple social networking sites; Facebook, Flickr, Google+, LinkedIn, and Twitter.
Created with the user experience firmly in mind, the website has been designed using the latest technology so the site is compatible with today's browsers and mobile devices without the need for Adobe Flash to view it.
Southwest Fastener (http://www.swfastener.com) has over a century of fastener knowledge and prides themselves on having the best service in the industry. Southwest Fastener is unique among fastener companies, because they not only deliver fasteners, but they also specialize in documentation, regulations, and problem solving.
Southwest Fastener has five product divisions; Construction, Solar, Waterworks, Industrial Maintenance, Construction and Pre-Fab.
The company service a diverse group of customers throughout the United States and ships product to locations around the globe. It carries a full line of fasteners and hardware, including; abrasives, anchors, cutting tools, gaskets & bolt kits, Lindapter connections, paints & lubricants, solar fasteners, structural fasteners, strut, fittings, and supports.
Southwest Fastener is a proud member of the ACT (Association of Construction Trades), AMIGOS Associated General Contractors (AGC), the Western Association of Fastener Distributors (WAFD), the Specialty Tools & Fasteners Distributors Association (STAFDA), and Sphere1.