Posted April 25, 2016
ProCon to host open house April 28
Event will take place at ProCon facility in Las Cruces, New Mexico.
---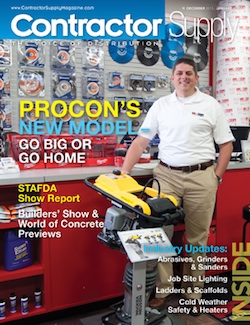 ProCon JCB, profiled in the December 2015/January 2016 print edition of Contractor Supply magazine, will be hosting an open house on Thursday, April 28 from 10 AM to 3 PM at the company's headquarters, 461 Pioneer Place, Las Cruces, New Mexico.
In addition to enjoying a free lunch, attendees will have the opportunity to view heavy equipment, demo new JCB machines, talk to product specialists and take advantage of exclusive tool and equipment specials.
Door prizes and raffles for hats, power tools, hand tools and other contractor gear will take place every 15 minutes. The biggest prize of the day will be a new big-screen TV, which ProCon will award to the winner of an exciting "Excavator Challenge."
ProCon Tools & Equipment was established in 2011 with a mission to go above and beyond customer expectations and provide excellent construction equipment, tools, supplies and services. In 2015, the company expanded its equipment line by joining the JCB dealer network as ProCon JCB, serving the New Mexico and Western Texas regions.
"This event will be a fun and unique opportunity to spend time with current customers as well as meet potential new customers," said Joseph Muench, Owner of ProCon JCB. "The benefits of JCB equipment speak for themselves, so we're excited to get more people behind the controls to discover firsthand how ProCon and JCB can help make their workday more productive and efficient."
ProCon JCB offers a variety of equipment, including large and compact excavators, telescopic handlers, the world's safest skid steer and compact track loaders with a unique side-entry door, wheel loaders, backhoes as well as power equipment and attachments. In addition to equipment sales, rental and service, ProCon JCB offers full financing and customer support, including a 24-hour call center for around-the-clock assistance.
"ProCon JCB is committed to putting its customers first," said Dan Schmidt, JCB North America's Vice President of Agriculture. "This event is a great way for the company to spend time with members of the community and show its support and appreciation, while demonstrating the many capabilities of JCB equipment."
For more information about ProCon JCB, visit www.proconjcb.com. To learn more about JCB's industry-leading equipment for the construction, agricultural, industrial, waste/recycling, rental and landscaping industries, visit www.jcbna.com.