All Material Handling Badger Hoist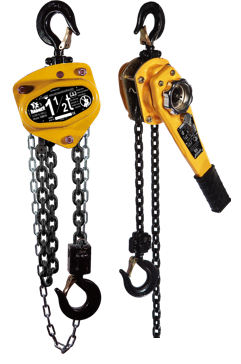 Not just another pretty hoist.
AMH has introduced a hoist line that is targeted to the construction, utility, maintenance, rental, oil production and petrochemical markets. The Badger line has been distributed in North America since 2005 by factory direct supply to distributors. At the request of customers this product was specified and manufactured to provide a better price alternative for many popular brands without sacrificing quality.
This same product and spare parts are now made available to AMH distributors from USA warehouses. Lever hoist in ¾, 1½, 3 & 6t capacities and hand chain hoist from ½ to 10t are available lifts up to 30. For customers requiring non standard lifts, pre tested and certified hoist and chain lengths can be ordered separately if tested before being placed in service per ASME B30. This safety standard allows pre certified hoist to be fitted with chain with a function test at 100 pounds per fall of load chain. This makes it possible for distributors and their customers to meet demands for non standard lifts without the need for expensive test equipment.
Not only are the Badger hoist readily available but the features are industry standard and then some in a design that is simple and easy to service. The total number of parts is less than most and assembly does not require any special tools.
All wrapped in durable steel enclosures with external parts powder coated or plated to resist the elements. Have a look at all the features and lifting accessories available at the following link and make a comparison with any other brand;
http://www.allmaterialhandling.com
Then call your nearest distributor or AMH directly for the best price and service available.