RIDGID 460-12 TRISTAND Chain Vise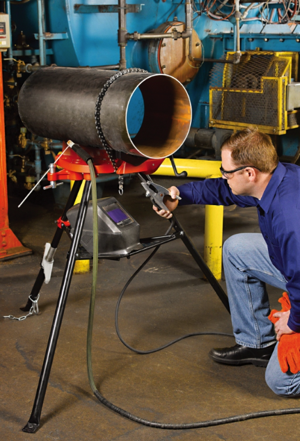 Not only has RIDGID improved its line of portable TRISTAND chain vises with upgrades to the Model 460-6, but the company has also expanded the line with the introduction of the Model 460-12, a chain vise capable of gripping up to 12-inch diameter pipe.
The TRISTAND chain vises are intended to hold PVC, steel and copper pipes. The Model 460-6 can hold pipe between ⅛ and 6 inches in diameter, while the new Model 460-12 has a 12-inch jaw and an extended chain to grip pipe diameters ranging from ⅛ to 12 inches.
The chain vises are versatile and durable, and are designed to meet rugged jobsite needs year after year. The base is optimized to provide more working area – with the pipe benders located at the rear of the base for bending or adjusting pipe, and tool hangers for equipment storage during use. The large vise base also overhangs the front legs to allow for clear tool swing.
The 460-6 and 460-12 feature an integrated ground lug that provides a conductive surface to connect the weld ground, and a jack screw to help stabilize the unit during use. Both are self-hooking for pipe up to 4 inches, a feature that is ideal when a second hand is not available to engage the chain into the wear plate.
"The portable 460-6 and 460-12 TRISTAND chain vises provide a variety of features that are designed with tough welding, threading and grooving demands in mind," said Larry Feskanich, product manager, pipe tools, RIDGID. "Building upon the attributes of the 460-6, the Model 460-12 is a first-of-its-kind, providing maximum convenience for those applications involving larger pipe diameters."
The chain vises feature a leg chain that helps retain legs, even when subjected to rugged use during operation and transport, and a rugged tool tray to provide prolonged stability before requiring a leg adjustment. The Model 460-12 has an additional adjustable rear leg, making it easy for the end user to level the stand.
The 47-pound 460-6 and the 71-pound 460-12 fold easily for storage or transport and are backed by the RIDGID lifetime warranty.
For additional information on RIDGID TRISTAND chain vises, please call toll free: 1-800-769-7743, or contact RIDGID, 400 Clark St., Elyria, Ohio 44035 U.S.A.