Blades: Amana Mamba Thin-kerf Saw Blades
Thin-kerf design requires less horsepower and reduces stock loss.
---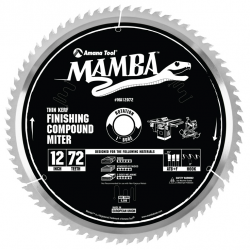 Amana Tool, manufacturers of industrial-quality carbide-tipped, solid carbide and replacement carbide cutting tools, today announced the expansion of its Mamba saw blade collection.
Mamba blades feature a thin-kerf design that requires less horsepower and reduces stock loss, making the collection ideal for contractors.
The new additions include blades for decking, framing, ripping and finishing uses with wood materials, as well as blades for non-ferrous metals, plastics and PVC. Mamba blades are designed for use in portable saws, miter boxes or table saws either on the job site or in the shop, giving contractors access to industrial-quality saw blades regardless of location.
Mamba saw blade bodies are laser cut from virgin steel, annealed and roll tensioned to ensure excellent cutting performance. Carbide tips are brazed onto the plates using an ultra-strength bonding material, then ground to Amana's strict specifications, enabling smooth, accurate cutting. Mamba blades also feature laser cut expansion slots and stabilizer vents that reduce noise, minimize vibrations and prevent heat buildup and blade warping. Each step in the manufacturing process is computer-controlled and monitored by sophisticated inspection equipment to assure the tightest tolerances and superior quality.
"Customer response to our earlier Mamba blades demonstrated a need for tools with the same level of quality that could tackle a larger number of applications," said Frank Misiti, Amana Tool technical director. "The expanded Mamba collection answers this need and provides an exceptional value for professional framing, decking and finishing applications that demand clean cuts and superior performance."
Mamba saw blades are available in diameters ranging from 7 ¼" to 12" with a variety of teeth configurations and hook angles. Item #MA8560 features an 8 ½" diameter with 60 teeth for finish cuts, and item #MA10080 has a 10" diameter with 80 teeth for cutting laminate flooring, brass, copper, plastics, PVC and aluminum.
For more information on Mamba saw blades, visit www.amanatool.com.