Blades: Oshlun Steel Cutting Blades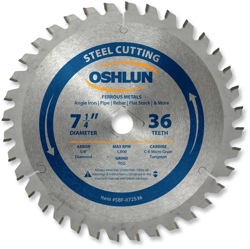 Oshlun's steel and ferrous metal cutting blades are the best value on the market. They have been designed with durable C-6 titanium carbide tips to ensure a long cutting life in ferrous metals.
Get burr-free cuts with little to no sparks or dust which are commonly associated with abrasives.
Cut up to 5 to 10 times faster and last up to 30 times longer than abrasives, allowing fewer blade changes and increased production.
Large selection of sizes and configurations are available.