Blades: Amana Tool Black Mamba Thin-kerf Blades for Framing and Decking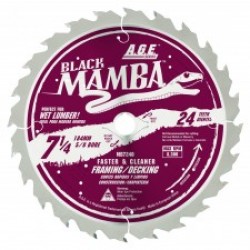 Amana Tool's new Black Mamba saw blades are ideal for use in portable saws, either on the job site or in the shop, giving contractors access to industrial-quality cutting materials regardless of location.
The new blades feature a thin-kerf design and hollow ground teeth that provide sharper cuts and help extend blade life. Black Mamba blades are designed for general rip and cut applications such as framing and decking where fast, efficient cuts are needed, even in wet lumber.
Black Mamba saw blade bodies are laser cut from virgin steel, then flattened, ground and tensioned. Carbide tips are then brazed onto the plates and ground to our specifications, enabling smooth, accurate cutting.
Black Mamba blades also feature laser cut expansion slots that reduce noise, minimize vibrations and prevent heat buildup and blade warping, as well as laser cut diamond knockouts for easy twist removal. Each step in the manufacturing process is computer-controlled and monitored by sophisticated inspection equipment to assure the tightest tolerances and superior quality.
"The Black Mamba blades provide exceptional value for professional framing applications where clean cuts and superior performance are required," said Phil Fried, A.G.E. sales manager with Amana Tool. "With the A.G.E. line, we provide access to the highest quality saw blades at the best possible prices for professional users and contractors. Our top-quality, European-manufactured saw blades are built on the Amana Tool reputation for high quality and superior performance standards."
Black Mamba saw blades are available in 7 ¼" diameter with either 24 teeth for general rip and cut framing or decking (#MD7240) or 40 teeth for finish cuts (#MD7400). Prices start at $11.16 USD per blade.