Abrasives: Ames Drywall Sanding Sponges, Discs and Sheets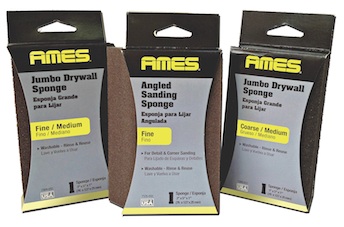 AMES Taping Tools now offers several high-quality abrasive tools including sanding sponges, discs and pre-cut sheets as part of its extensive supply of drywall merchandise and equipment. Ideal for sanding drywall and painted surfaces, these high-performance and affordable abrasives cut faster for higher productivity and profit.
AMES-branded abrasives are available in:
Wedge, dual-angle and straight-angle sponges that are offered in a range of grits, as well as combined-grit formats for scuffing and finishing work.
9-inch discs that hold more securely to hook & loop pads, resist tearing and use high-performance silicon carbide grain to cut faster.
Pre-cut sheets and rolls made with heavy-duty paper that resists tearing and resin bonding for maximum grain adhesion.
AMES abrasive products come in a variety of grades and sizes that lend themselves to an assortment of different projects and uses. Learn more at www.amestools.com or call 888-BAZOOKA.