Abrasives: PFERD DUODISC Combination Cutting and Grinding Wheels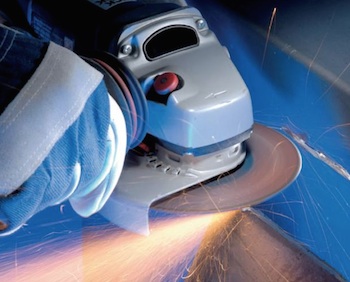 PFERD has expanded the range of DUODISC combination cutting and grinding wheels to include 6" and 7" diameters.
PFERD's Type 27 Depressed Center DUODISC wheels are engineered for dual-purpose cutting, grinding and deburring with a single wheel on steel or stainless steel.
DUODISC offers a new level of performance, providing more cuts than competitive wheels, along with a smooth, aggressive cutting action. Triple-reinforced DUODISC improves safety while increasing efficiency and profitability. PFERD guarantees compliance with all national and international laws, standards and regulations.
DUODISC is produced for use on 4", 4-1/2", 5", 6" and 7" angle grinders. The 4" diameter is available in .065" thickness, while the 4-1/2" and 5" diameters come in both 1/8" and .065" thicknesses. The new 6" and 7" diameters are available in 1/8" thickness. All diameters are available with either a plain arbor hole, or a quick-change threaded hub.
For more information, please call customer service at 1-800-342-9015 or visit our website at www.pferdusa.com/duodisc.