Abrasives: Pferd CC-GRIND-SOLID Grinding Discs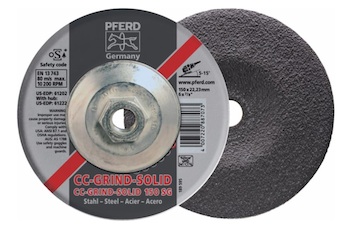 PFERD's CC-GRIND-SOLID removes twice as much material per minute compared with conventional grinding wheels. This lowers operating costs and increases productivity. It can be used for surface grinding, weld removal and all common grinding applications.
Along with versatility and performance gain, CC-GRIND-SOLID reduces dust emissions, noise and vibration by 50% or more, making it the most operator friendly grinding tool on the market.
The CC-GRIND-SOLID is flexible which creates a large surface contact area for reduced risk of gouging the work piece.
New for 2015, the CC-GRIND-SOLID for Steel is available for 4- and 6-inch angle grinders. The CC-GRIND-SOLID is also available for Steel or Stainless in 4-1/2, 5 and 7 inches. A 5/8-11 quick-change hub is also available.
For more information, please call customer service at 1-800-342-9015 or visit our website at www.pferdusa.com/solid.