Abrasives: Pferd POLIFAN-CURVE Flap Discs in 6- and 7-inch Diameters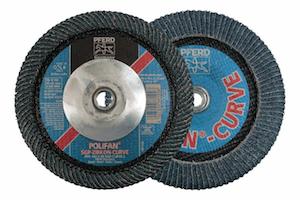 Introduced by PFERD in November 2009, POLIFAN CURVE is a flap disc designed for grinding fillet welds. The flaps wrap from the bottom to the top of the disc, allowing for excellent grinding and finishing results on fillet welds.
POLIFAN CURVE removes material faster than bonded wheels, and leaves a smooth finish for easy visual inspection of porosity and other defects. Defective weld can be removed with greatly reduced risk of damage to adjacent areas.
New for 2015, the 4-1/2" and 5" diameter selection of POLIFAN CURVE Flap Discs is expanded to include 6" and 7" diameters. The larger diameter discs provide deeper reach and have far more coated material for superb disc life. With minimal loss of diameter as these discs wear, high productivity is sustained through the life of the disc.
All POLIFAN CURVE flap discs are available with 7/8" arbor hole or quick-change 5/8-11 hub.
For more information, please call customer service at 1-800-342-9015 or visit our website at www.pferdusa.com/curve.
PFERD INC. and PFERD CANADA INC. are North American subsidiaries of August Rüggeberg GmbH & Co. of Marienheide, Germany, a world leader in the design and manufacture of files, quality abrasive products, cutting tools, brushes and power tools since 1799.