Power Nailers & Staplers: Arrow PT50 Pneumatic T50 Stapler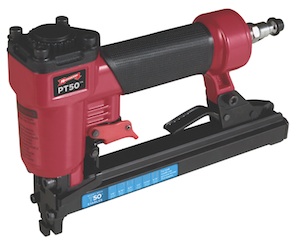 The PT50 Pneumatic T50 Stapler is Arrow Fastener's first pneumatic stapler and features a lightweight, compact design that provides versatility and the precision necessary for both construction and home repair projects.
Ideal for general home improvement projects, the Arrow PT50 pneumatic stapler is perfect for professionals and DIYers looking for a powerful yet easy-to-use solution to get the job done right.
The Arrow PT50 pneumatic stapler features bump-fire capability allowing users to fire staples quickly and accurately; with a built in safety mechanism, there is no need to worry about accidental firing. The quick release magazine also makes loading staples easy and efficient.
It fires heavy duty Arrow T50 staples, including 5/16" 8mm; 3/8" 10mm; 12mm, 13mm, 14mm, 1/2", 17/32" and 9/16" sizes. The tool features a sturdy blow-molded case, replacement oil and two hex wrenches for easy tool maintenance and storage.
"Pros and DIYers can feel confident when purchasing the PT50 stapler, thanks to Arrow's strong reputation for quality and dependability," says David Rubin, product manager, Arrow Fastener.
Available wherever Arrow products are sold, the PT50 pneumatic stapler offers affordable value while still providing the power and features available in some premium priced pneumatic staplers.
Arrow PT50 Pneumatic Stapler Features:
Contact Safety Mechanism for safe firing
Rubber grip for comfort during extended use
Adjustable exhaust cover directs air away from user
Easy-load magazine for quick loading
Bump fire capability for fast firing
Maximum Pressure: 120 psi
Compact, lightweight design