Power Nailers & Staplers: Senco FinishPro 21LXP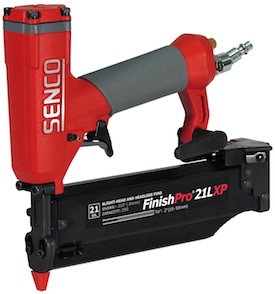 Senco introduces the perfect solution for professional users looking for something in between the common 18-gauge and 23-gauge fasteners available today. The FinishPro 21LXP is a slight/medium head 21-gauge pinner that delivers the holding power of a brad nail while leaving a much smaller indent that requires little to no filling.
"The 21LXP provides the perfect balance of fastening strength while reducing finishing at a competitive price. Often, an 18-gauge brad nailer is too much for MDF and requires filling and sanding on trim," says Senco product manager Eric Bellman. "With the ability to use headless or slight/medium head fasteners, the 21LXP offer users holding power without sacrificing finish quality."
Weighing in at only 2.7 lbs, and less than 9" in height and 8" in length, this ultra-lightweight and compact tool can easily fit into tight spaces. The ergonomic and angled pistol grip ensures a comfortable user experience, even over prolonged periods of time. With its ultra-narrow nose and non-marring pad, the 21LXP also delivers clean and exacting fastener placement.
The 21LXP is ideal for a variety of applications, including: light wood assembly, finish and trim work, molding and decorative trim, dowel and joint pinning, mirror and picture frame assembly, lightweight paneling, external softwood trim, rattan furniture, glazing strips, craft work, window beading, display and sign work.
The metal magazine increases the tool's durability while it also automatically adjusts for different fastener lengths to provide quick and easy loading. Dry firing can ruin a delicate material, which is why Senco incorporates a last nail lockout. Users can also easily see when fasteners are running low.
The exhaust is located at the rear to direct air from the user and, with the embedded muffler, it offers whisper quiet operation. The swiveling 1/4-inch plug helps keep the hose at bay.
FinishPRO 21LXP 21-Gauge 2" Pinner Specifications
Reg. Operating Pressure: 70-120 psi (4.8 – 8.3 bar)

Air Inlet: 1/4" NPT

Tool Weight: 2.7 lbs (1.2 kg)

Tool Height: 8.89" (226mm)

Tool Width: 1.85" (47mm)

Fastener Capacity: 200

Fastener Range: 5/8" - 2"

Fastener Gauge: 21

Five-year limited warranty

MSRP: $249