Power Nailers & Staplers: Apach CN-565 and RN-45E2 Coil Nailers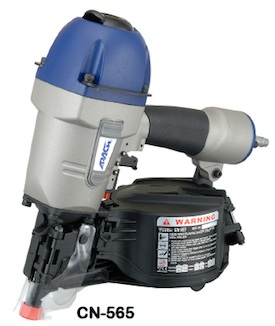 The CN-565 Siding Nailer is perfect for siding and fencing applications. This tool uses a 15-degree plastic or wire collated nail, with a range from 1-1/4" to 2-1/2", and a .090 to .099 shank size.
It features a depth of drive adjustment and a bump fire trigger for rapid production.
The CN-565 features:
Canister capacity drives 250 to 400 nails per full load
Accepts both 15-degree wire and plastic collated nails
Bump fire trigger for rapid production
Tool free dial-a-depth safety yoke
High durability driver blade
No-mark rubber pad available
Weighs 5.9 pounds
The RN-45E2 coil nailer has recently been updated. The tool now boasts a depth of drive adjustment and a magnet in the nose to help stabilize the last few nails in the coil.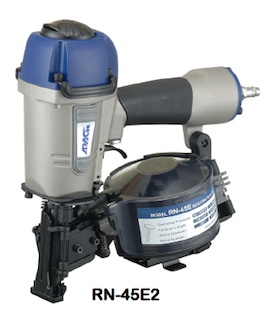 This tool is fast, light and well balanced to keep fatigue at a minimum. It will accept 7/8" to 1-3/4" roofing coil nails.
The RN-45E2 features:
Well balanced ergonomic design
Tool free depth adjustment
Carbide insert in tip to decrease wear
Low vibration, less fatigue
See-thru side loading magazine
Integrated Magnet in Nose to hold the last nail
Weighs 5.7 pounds
For information, call 888-392-9947 or visit www.axxisus.com.