Power Nailers & Staplers: MAX GS732C Cordless Concrete/Steel Pinner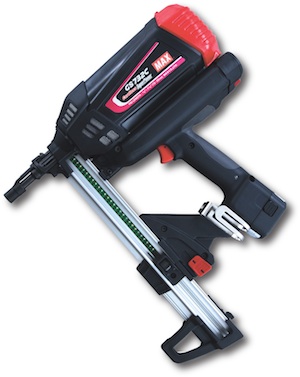 MAX USA CORP. announces the availability of the MAX GS732C Cordless Concrete/Steel Pinner. The MAX GS732C is a cordless pin fastening tool powered by a liquid-gas fuel cell. Similar to our other MAX professional grade construction tools, it has a number of unique features which improve construction work.
The MAX GS732C Cordless Pinner weighs only 7.9 pounds, yet has the greatest power output at 105 Joules, making it, MAX says, the most powerful and lightest tool in its class. It drives concrete / steel pins in lengths of 1/2" to 1-1/4".
The tool's magazine accepts both .102" and .145" shank pins without adjustment. With the optional pin magazine, you can drive 1-1/2" pins also.
The MAX GS732 has a pivot swing trigger with 50 to 70% lower pull-load than competitors' models. It reduces worker's fatigue significantly especially in reaching-out or over-head applications, which lead to higher productivity.
It also has user-friendly features like dial adjustable depth control, removable pin magazine with one click lever, and slim nose with enough clearance for deep track.
The MAX GS732C comes with a plastic carrying case, JC610M battery charger, 1 JP606H battery, and safety glasses.
While the main application of GS732C is drywall track attachment to concrete or steel I-beams, it is also very useful in a wide variety of fastening applications such as lath wire mesh to concrete blocks, electrical conduits / cable box to concrete, plywood to concrete and so on.
For those different applications, MAX provides a variety of pins for the GS732C. Each pin box contains 800 pins and one fuel cell. MAX is also providing fastening hardware accessories which can be used along with pins, such as lathing washers, threaded rod hangers, conduit clips, etc.