Little Giant SafeFrame Stepladder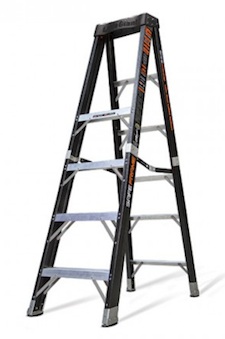 The world's first stepladder to solve the three leading causes of accidents.
Little Giant Ladder Systems unveiled at the National Safety Council Congress & Expo the SafeFrame stepladder that prevents users from standing on the top rung or top cap and trains them to avoid missing the bottom rung.
Working in partnership with construction and industrial safety professionals throughout the nation, Little Giant developed the new patent-pending SafeFrame ladder to solve the most serious safety issues with ordinary, traditional stepladders.
"Traditional stepladders are the most widely used type of ladders in the world," said Art Wing, Chairman and President of Little Giant Ladder Systems. "And they are involved in a huge number of injuries every year because current designs literally encourage unsafe practices. The SafeFrame is a game changer for occupational health and industrial safety experts."
Safety at the top of the ladder:
The Problem: The most common safety issue with stepladders is standing on the top rung or top cap. Research shows that most operators will break OSHA and ANSI rules by standing on the top rung or top cap of a stepladder rather than going to get the right ladder. Standing on the top rung or top cap compromises the user's stability and increases the chance of a severe injury from a fall.
The Solution: The patent-pending SafeFrame eliminates the top rung, preventing the unsafe practices of standing on the top run or accessing the top cap. The SafeFrame also features an extra deep standing rung and Little Giant's new Face-Forward™ top cap to encourage operators to use the ladder correctly and to provide increased balance and stability.
Safety at the bottom of the ladder:
The Problem: Safety professionals and companies around the nation report that up to 20 percent of ladder-related injuries occur at the bottom rung, specifically when the user descends from a ladder and misses the bottom step. This kind of accident often results in ankle, knee, head and spinal injuries.
The Solution: The SafeFrame's patent-pending Ground Cue bottom-rung indicator provides an audible and tactile cue that signals to the operator it is safe to transition to the ground.
Safety from top to bottom of the ladder:
The Problem: Unlevel working surfaces are a constant at most industrial, construction and service sites. Working from an uneven setup makes traditional stepladders all the more unsafe, compounding the dangers of over-reaching.
The Solution: The SafeFrame also features Little Giant's patent-pending Ratchet Levelers™. The integrated quad leg leveling system easily adjusts the SafeFrame to nearly any unlevel surface, which provides unmatched stability on uneven terrain.
The Ratchet Levelers adjust hands-free in seconds, providing security and stability on nearly any terrain. The integrated levelers are extremely quick and easy to operate.
"The SafeFrame sets a new standard for stepladder safety. This ladder will prevent injuries and save lives," said Ryan Moss, CEO. "The launch of the SafeFrame stepladder is about getting mothers and fathers safely home to their families each night."