Little Giant HyperLite and HyperLite SumoStance Fiberglass Extension Ladders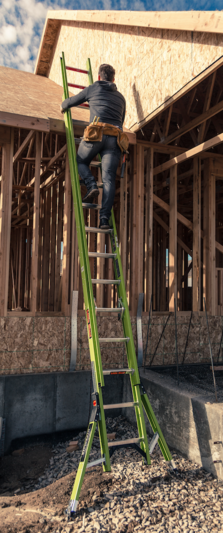 Little Giant Ladder Systems introduces its new HyperLite and HyperLite SumoStance fiberglass extension ladders.
The Little Giant HyperLite, in patent-pending Hi-Viz green, is the lightest Type IA and IAA fiberglass extension ladder in the world, weighing up to 40 percent less than ordinary fiberglass ladders, without sacrificing strength or stability.
The HyperLite SumoStance, also in Hi-Viz green, is the winner of Occupational Health & Safety magazine's New Product of the Year Award for Fall Protection/Fall Prevention.
The HyperLite SumoStance delivers safety to working professionals by tripling the base width and by increasing side-tip stability. This new category of extension ladders works on nearly any uneven surface while still weighing less than ordinary fiberglass extension ladders.
"Traditional extension ladders are a major risk for professionals and safety inspectors," said H. Arthur Wing, Chairman and President. "The new HyperLite and HyperLite SumoStance can protect workers from common injuries related to their ladder's weight. The HyperLite sets a new standard in ladder safety and provides a safe experience for professionals who use extension ladders, while reducing risk."
Common ladder problems are overcome with the following innovations from the HyperLite and HyperLite SumoStance:
Patent-pending Sure-Set feet: Allows you to set the feet in either flat or spike positions and have them stay in place.
Hi-Viz Green: Some of the most catastrophic falls are caused by people who walk or drive into an extension ladder. This Hi-Viz green, the most easily detected color to the human eye, will help prevent these types of accidents by increasing visibility.
SumoStance Wide-stance Levelers: Increases side-tip stability, preventing accidents caused by over-reaching and working on uneven surfaces.
Wide Rungs: Provide great comfort, reducing foot fatigue.
Side-mounted, dual-pulley system: Reduces the effort required to lift the fly section by 45 percent and removes a potential trip hazard caused by traditional center-pulley rope systems.
Little Giant designed the breakthrough innovations featured in the new HyperLite and HyperLite SumoStance ladders to overcome common ladder accidents, including injuries caused by the weight of the ladder and injuries caused by overreaching. These types of accidents often result in lost work time and can vary in severity of injury, from strains and sprains to death.
"The HyperLite and HyperLite SumoStance are engineered to prevent accidents and save lives," said Ryan Moss, CEO. "These lightweight ladders will help reduce injuries caused by handling ordinary ladders. With these latest innovations, Little Giant continues to lead the industry in setting new safety standards focused on bringing employees home safely to their families."
HyperLite video and images can be viewed at: www.littlegiantladders.com/ladder/hyperlite
HyperLite SumoStance video and images can be viewed at: https://littlegiantladders.com/ladder/hyperlite-sumostance