Balco Michael Rizza Partition Closure System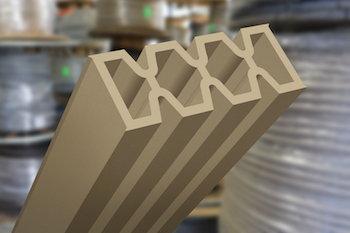 Balco USA, Wichita, Kan., a leading manufacturer of high performance construction products, introduced the Michael Rizza Partition Closure System (PCS-Series), the architecture/construction industry's only vertical silicone compression seal and sound transmission dampener that's molded into a single 100-foot-long length.
The aesthetic PCS-Series is an easy-to-install, economical product designed for vertical junctures and joints between the ends of partitions and curtain walls and glazing for office facilities, hotels, hospitals and other commercial buildings.
The PCS-Series' 100-foot (30-m) length is the industry's longest, which reduces labor-intensive multiple splicing associated with other partition closures. The 100-percent silicone construction is easily cut onsite with a utility knife and has the flexibility to fit into two-inch-wide (51-mm) expansion joints between exterior glass or mullion curtain walls and CMU or drywall partitions. The installation process is completed with a one-step silicone rubber building joint sealant, such as Dow Corning 790, which complements the PCS-Series' abatement of sound/vibration transmission, thermal transfer and dirt/dust infiltration.
The one-piece, bellows-like design consists of two hexagonal and two trapezoidal-shaped chambers that allow the PCS-Series to easily expand and contract within a ±1/2-inch (12.5-mm) range without the use of mechanical springs or parts. The open chambers give the PCS-Series superior, lab-tested sound reduction qualities of up to STC-58, depending on single or double-sided installation configurations.
An optional 10-foot-long (3-m) anodized aluminum Tube Channel Base Member (PCS-1B) and a C-Channel Base Member (PCS-1C) allow one side of the PCS-Series to be inserted and held securely. Both channels can accommodate larger joint openings and can be installed onto building materials non-invasively with construction adhesives such as Liquid Nails or Sikaflex 1A.
The PCS-Series standard color is black, however colors from the Dow Corning 790 silicone color palette are available for matching building materials.
Other features of the PCS-Series include:
Doesn't lose flexibility, deteriorate or fade, because of inherent endurance of silicone and built-in ultraviolet light inhibitors;
Tested for cyclic movement under the ASTM E1399 Standard;
Contributes to Leadership in Environmental and Energy Design (LEED) credits;
Standard one-year warranty.
For additional information on the PCS-Series or other Balco USA products, please visit www.balcousa.com; or call 800-767-0082