Gas Engine Equipment: Dynapac LF Series plate compactors

Dynapac's new series of LF forward compaction plates feature improved speed, flexibility and performance.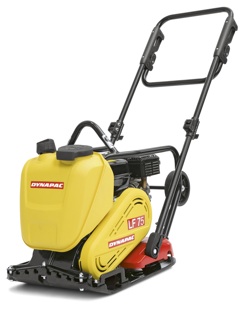 Engineered for asphalt applications and available with a number of options to customize the plates, the new models are approximately 20 percent faster than their predecessors. The Dynapac LF75 and LF100 plates are easily convertible from soil to asphalt applications and feature a specially engineered bottom plate and a unique water distribution system to provide unequalled results for all types of asphalt jobs.
The bottom plate is the most critical component of a forward plate for asphalt compaction. The new Dynapac LF series bottom plate has been designed so its edges give a well-defined contact surface that will leave no marks on the mat.
The Dynapac LF series also features a unique patented water distribution system that is integrated into the bottom plate. Water consumption is optimized by means of a flow adjustment valve that is easily reached by the operator. A large removable water tank with a secured cap makes refills swift, simple and less frequent; this also allows for longer shift operation and more output per day. Maintenance is easier as well because there are no pipes or sprinklers to clean.
The Dynapac LF75 and LF100 weigh 165 pounds and 205 pounds respectively. The LF75 is available with a Honda engine and a 16.5-inch bottom plate. The LF100 is available in a gas or diesel option and features a 20-inch-wide bottom plate.
The LF series is equipped with Dynapac's Low-Vib handle, which reduces exposure to hand-arm transmitted vibrations and increases operator comfort. For tight spaces, the handle is aligned with the center of the plate for easy maneuverability. The handle can be raised to a vertical operational position, and then easily folded for transportation and storage.
All models offer a wide variety of optional equipment such as lifting handles, block paving kits and a protection frame suitable for rental applications, all of which makes it possible to customize the machine.
| | | |
| --- | --- | --- |
| Model | Plate Size | Engine |
| LF75 | 16.5 inches | Honda |
| LF100 | 20 inches | Honda or Hatz |
For further details, contact Fabian Salinas, product manager, Concrete and Light Compaction Equipment; E-mail: fabian.salinas@dynapac.com