BeA Fasteners 145/23-178L Stapler for Stucco and Lathing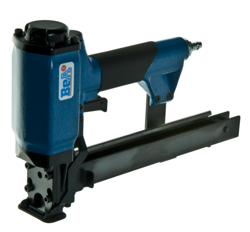 The BeA Group introduces the model 145/23-178L stapler for lathing and stucco applications. It accepts 1-inch wide-crown 16-gauge staples to to 1 1/4 inches long. This durable and fast German-made tool has been designed to meet even the toughest job site conditions.
Its ergonomic design and well-balanced weight of just over five pounds allows even the largest jobs to be ocmpleted quickly. The tool features a bump-fire mode for increased job site speed.
A key feature of the tool is its specifically designed gliding-show work contact which allows quick staple placement without the tool getting stuck in wire mesh.