Lenox Soft Storage Tool Bags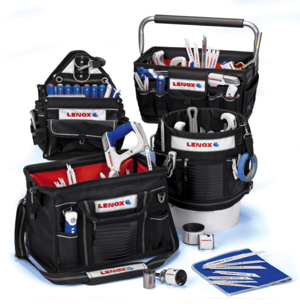 LENOX introduces a new line of contractor-grade Soft Storage Tool Bags for tradesmen to transport, store, organize and protect their hand tools, power tool accessories and torches.
"Tradesmen have told us that they need a better way to store their tools on the job. What they want is a bag with more room, that's strong enough to hold multiple tools and can stand up to vigorous use," said Lisa Koliopoulos, associate product manager, LENOX. "LENOX has been developing and supplying the best tools to users for years, and now we're fulfilling an industry need for better, more robust tool storage solutions. Our bags were dragged, dropped and beaten to stand up to the test."
LENOX put the Soft Storage Tool Bags through multiple rounds of field testing and a series of in-house destructive tests to simulate real-world situations and extremely destructive abuse. The bags were dragged more than 2,000 feet, dropped from 10-foot heights, filled with 145 pounds of weight and hung by the strap, and exposed to extreme elements. The testing demonstrated that the bags are able to exceed loaded weight requirements and withstand extreme use conditions.
LENOX offers four Soft Storage Tool Bags:
The Electrician's Tote has eight interior pockets, 12 external pockets, five open storage areas and 16 elastic loops. It includes a tape measuring clip, key clip, tape holder loop and small parts bin. A clip-on handle allows the tote to be hung anywhere.
The Bucket Tool Organizer has 22 exterior pockets and 12 internal pockets. It includes a hammer loop, tape-holder loop and side clips.
The Plumber's Tote has nine exterior pockets, 14 interior pockets and 10 elastic loops. It includes a hacksaw pocket, tape measuring clip and tape holder loop.
The Contractor's Tool Bag has a large open mouth and 14 interior pockets. It includes hammer loop and small parts bin.
The LENOX Soft Storage Tool Bags are available at plumbing, electrical and construction distributors nationwide with a suggested retail range of $29.99 to $65.99, depending on style.