Other Products: Bessey Adjust Toggle Clamps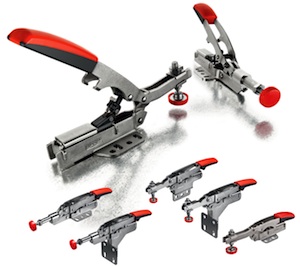 BESSEY announces an extension of the Auto-Adjust Toggle Clamp line from three to eight distinct
configurations.
The original BESSEY range of Auto-Adjust Toggle Clamps included two horizontal clamps and one inline toggle clamp - each with a horizontal base plate. This offering has now been expanded with the addition of five further
models. Included in this expansion are three additional horizontal toggle clamps in a more compact format, one of which has a horizontal base plate, one with a vertical base plate and one with a 90° angled base plate.
The inline clamp range has also been expanded with two compact models: one model with a horizontal base plate and one with a 90° angled base plate.
The new Auto-Adjust Toggle clamps also include detailing improvements. For example, the opening angle is now a full 90°. The oil-resistant twocomponent plastic grip is relatively larger on the more compact models and
incorporates an anti-slide device and lever stop.
Additional features are the rotating pressure plate with removable protective cap (instead of a screw with a rubber stopper) and a very flexible base plate hole pattern that is suitable for standard dimensioning in millimeters and inches.
All models - new and old – continue to feature the ability to automatically adjust to work piece dimensions while maintaining constant clamping force and, with the ability to adjust that clamping force as needed at set-up time.
Time-consuming manual adjustment of the pressure screw is greatly reduced.