Other Products: THE BOSS Hydraulic ATV Plow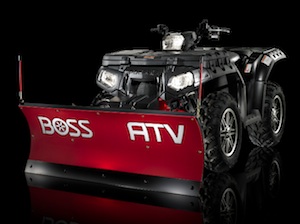 THE BOSS Snowplow unveils a new fully hydraulic plow for ATV use giving the popular recreational vehicle the capability to multi-task for quick and easy snow removal. This new product introduction complements the full lineup of UTV plows currently available expanding THE BOSS product line deeper into the off-road market.
THE BOSS 5-foot Poly Straight-Blade ATV Plow is designed with a low-profile undercarriage for Polaris 550/850 Sportsman models. Additional models will be available soon. When the ATV plow is not attached, the ATV will remain trail compatible.
THE BOSS ATV Plow features a fully hydraulic, winchless system providing a full 30 degress of lifting height and 30 degress of power angling for higher snow stacking. The high-performance hydraulic package is fully enclosed to protect against corrosion and hydraulic freeze-up for unmatched durability.
Attachment of THE BOSS ATV Plow is fast and easy with THE BOSS RT3 hitch system. The switch box controller is easy to mount for convenient accessibility on the ATV handle bar and is ergonomically designed for maximum comfort while plowing.
Every plow features THE BOSS' exclusive SmartShield finish to deliver durable corrosion protection and a long-lasting, high-gloss shine. Visit the ATV Plow product page for more information on key features and benefits.