Other Products: Calbond Double Coated Conduit Bodies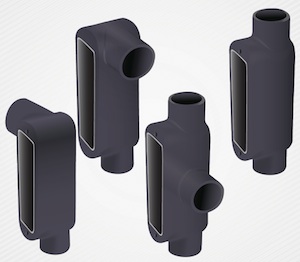 Calpipe Industries announces that all Calbond steel and aluminum conduit bodies now come standard with double coating, improving the integrity of installations.
The Calbond PVC coated conduit bodies feature a minimum thickness of 0.002" urethane on the interior and exterior of the fitting, and are then coated again with a 40 mil PVC coating on top of the urethane, providing an additional layer of protection against accidental nicks and/or cuts from improper assembly tools during installation.
All Calbond PVC coated products are UL listed, cUL listed, and fully compliant to NEMA RN-1, delivering superior protection in highly corrosive environments including waste water treatment plants, petrochemical, mining, pulp and paper mills, processing plants, subways, and many more.
The unique Calbond PVC coating formula delivers the longest product life cycle in the industry. The reliable, durable double coated conduit bodies simplify installations, ensure safety, and increase uptime and productivity.
"Calpipe Industries is pleased to provide an additional layer of defense against the elements with double coated Calbond conduit bodies. The additional coating thickness exceeds industry standards, while our standard and custom conduit products are designed to meet virtually any customer requirements," said Ilan Bender, VP of Manufacturing.
For more information, call 562-803-4388, visit www.calbond.com or email info@calbond.com.