Other Products: Bosch Heated Jackets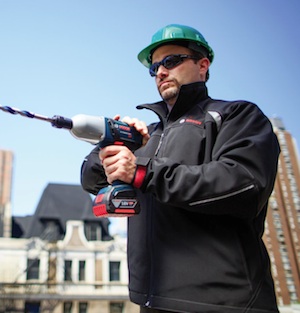 Bosch Power Tools is heating up jobsites this fall with the launch of the company's first 12V Max heated jacket and battery holster/controller USB power backup. The PSJ120 12V Max Heated Jacket is designed to keep outdoor contractors and mobile technicians warm and protected from the elements, while also offering a convenient built-in battery backup power source – the BHB120 – to keep USB-compatible cell phones and other important electronics charged and ready to go.
The jacket features three quick-warming core heat zones – two chest and one back – that start warming in a matter of minutes and provide up to six hours of heated runtime on low heat level with a 2.0 Ah battery.
A three-level heat controller button on the jacket's chest lights up in red, green and blue to denote heat levels of high, medium and low, respectively. The PSJ120 is compatible with all Bosch 12V Max batteries (available separately), including the new 4.0 Ah BAT420.
This jobsite-ready jacket is designed with high quality materials that are water and wind resistant for maximum warmth and flexibility. A full-zip, high-collar design and adjustable sleeves and waist shield users from cool fall and winter winds, while reflective features increase visibility in early morning or late evening hours.
Five large, convenient pockets easily stow on-the-go materials and keep hands warm. Pockets include one BHB120 storage pocket, two hand pockets, one cell phone chest pocket and one large document pocket.
The BHB120 delivers 12V Max power to the heated jacket and provides battery backup to cell phones, MP3 players and most other USB-charged personal electronics (5VDC/1A max output).
An all-metal belt clip allows users to store the BHB120 in their jacket pocket or on their belt when used separately. It features durable outer housing and a compact design that is hardly noticeable in a jacket pocket.
The PSJ120 is offered in six sizes, small-3XL, and will be available in October through authorized dealers nationwide. It includes the BHB120 Battery Holster/Controller and retails for a suggested price of $179 (S-XXL) and $189 (3XL).
Batteries are sold separately, and new Bosch users who do not already own a Bosch 12V Max battery are encouraged to purchase the SKC120-102 starter kit, including the BAT414 and charger, for a suggested price of $49. Available separately, the BHB120 retails for a suggested price of $39.