Big Foot Tools 75 Degree Head Cutter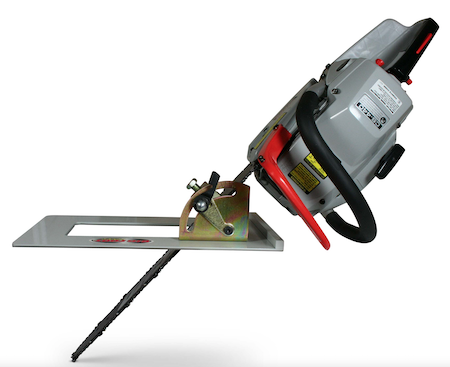 Big Foot Tools announces its new video showing the various uses of the Big Foot 75° Head Cutter Chainsaw Attachment. The unique patented design allows the Big Foot Head Cutter to clamp to any chainsaw bar up to 3 inches wide and length of 14" to 44" in seconds to become a giant precision cutting tool.
The Big Foot Head Cutter allows the chainsaw to be used to precision cut, Glue-lams, Micro-lams, TJI's, landscaping lumber, fence posts, large structural panels and more. It's a dream come true for log home builders and other framers working with larger timbers and manmade beams.
To see the new Video, visit https://youtu.be/yXgl5tKRF30
The Big Foot Tools Head Cutter is a chainsaw attachment that changes a rough and sometimes sloppy cutting chainsaw into to a precision cutting tool. It allows the user's chainsaw to perform beyond the reach of any common portable circular saw or chainsaw alone. It offers the ability to quickly attach a solid guide plate that can be precision adjusted to allow an exact angle of cut from 0 degrees (vertical) to 75 degrees while still having the capacity and performance of a full-size gas or if desired electric chainsaw.
Features include:
Laterally angularly adjustable from vertical through 75o
Wide base plate for superior stability and precise freehand cutting
Designed for easy guiding—following a snap-line or scribed arc is effortless
Easy clean up–chain cutter throws wood chips away from your work area
Designed for safety and precision—the Big Foot Head Cutter gives you an unobstructed view of the cutting chain Made in the USA using 6061 aircraft aluminum - makes the Head Cutter light weight and durable
The Big Foot 75° Head Cutter has a MSRP of $259.00. The Head Cutter XL has a MSRP of $349.00 and both can be purchased through local retailers, if available, or online from various distributors shown on www.BigFootTools.com.