MPower 2.5-Degree Angled Diamond FASTTRACK Chisel & Knife Sharpeners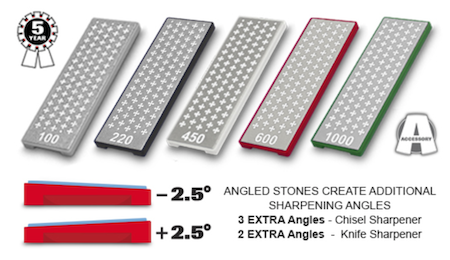 MPower now offers 2.5-degree angled sharpeners for maintaining razor cutting edges on chisel and knives.
Designed for use with the FASTTRACK Sharpening System with Diamond Cross sharpening technology, this high spec range of "Diamond Cross" diamond stones offers an innovative and powerful sharpening system that will have you regaining that razor sharp edge in seconds. Its so simple, chisel in.. and sharpen. Plane blade in... and sharpen.
There's No set up time.. No complicated attachments and No experience needed.. Drop it down onto 4 rubber feet and use on the go or mount it to your workbench by screw, bench dog or vice. The FASTTRACK is just as at home on-site as it is in your workshop.
The Diamond Cross FASTTRACK will deliver the perfect sharpening angle, an edge that's square to the blade and a flat ground finish. With the angles fixed, you can then easily repeat those angles again and again.
These new angled stones add three nadditional sharpening angles to your FASTTRACK Chisel Sharpening System and 2 more angles to your Knife Sharpener.