Measurement: Spectra Precision LT58 Laser Tool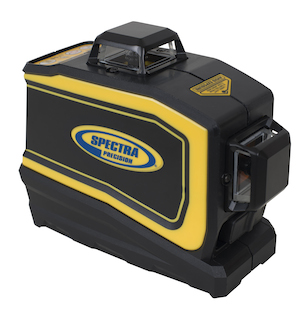 Trimble introduced today the Spectra Precision LT58 Laser Tool, a new line laser for interior construction ideally suited for acoustic ceiling installations.
The LT58 Laser Tool is an easy-to-use, automatic self-leveling laser that projects three 360-degree planes of ultra-bright laser light. The laser produces a bright green laser beam in the horizontal plane.
The horizontal green beam is intersected by two vertical red laser planes spaced 90 degrees apart, providing references for interior layout tasks including wall layout and installation, point transfer, finish carpentry, tile layout, and horizontal and vertical alignment.
The laser is compact, lightweight and can be easily setup using the included wall mount. For example, installation on high-ceiling grids can be a quick, easy task as compared to conventional heavier rotating lasers with cumbersome wall mounts.
"We have tested the LT58 with multiple interior contractors and on many jobsites and have consistently found this tool to be the go-to ceiling laser. With its bright green horizontal line, compact form factor and easy setup, contractors were using the LT58 no matter what other lasers were on the site," said Mike Bank, general manager of Trimble's Precision Tools business.
The LT58 package includes a universal mounting accessory that allows mounting to various sized ceiling track—including shadow tracks that require alignment to the top of the track. Mounting to tripods, columns and studs of various sizes is also possible. The mount has fine vertical height and horizontal rotation adjustments for quick and easy setups.
The LT58 is powered by a lithium-ion battery, providing a typical battery life of 19 hours with the green beam. In addition, the ecological friendly, rechargeable battery can lower operating costs compared to disposable alkaline batteries.
A tough housing with generous overmold is designed to protect the unit and endure the rigors of the construction environment. This tool is specified to withstand a 3 foot (1 meter) drop test. The laser is warranted with a 3-year over-the-counter dealer exchange policy.