Other Products: Buyers Products SaltDogg Spreader for 1-Ton Trucks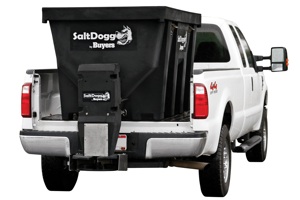 Buyers Products offers the SaltDogg SHPE2250 salt spreader, a powerful salt spreader that fits most standard pickup truck beds.
Designed with a large-diameter auger system that travels the length of the hopper floor, the SHPE2250 provides maximum, continuous material flow. An in-cab console features independent controls for the auger, spinner and vibrator.
The large auger is powered by a 3/4-horsepower auger motor, and the 14-inch polymer disc spinner is powered by a 1/2-horsepower spinner motor. Both motors are ultra-quiet, 12-volt DC direct-drive and are encased in heavy-duty housing with an independently powered vibrator.
The 2.2-cubic-yard capacity salt spreader fits all 8-foot truck beds and features molded forklift slots for easy installation and removal. The spreader has a variable output-width from 5- to 30-feet and a material flow rate of 3.2-cubic-feet per minute for salt and 2.3-cubic-feet per minute for salt/sand mixture.