Other Products: Coxreels Hose Bend Restrictors
Available on low pressure hose reels with 1/4-, 3/8- and 1/2-inch PVC, rubber and nitrile hose handling 300 PSI.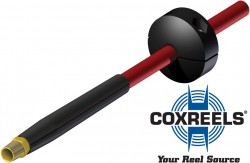 Bend restrictors are suggested for hose assemblies that might receive substantial usage and are recommended for air, water, oil, fuel, and other fluid transfer applications.
Coxreels' high-quality bend restrictors are made of durable and flexible PVC that provide a convenient grip for increased hose control and mobility.
They are designed to limit the degree of bending without compromising the integrity of the hose assembly while also preventing the hose-end from kinking, excessive wearing, and tearing.