Other Products: GreenGuard PLYGOOD R-2 Insulative Sheathing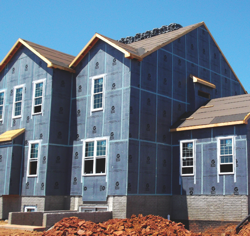 Pactiv Building Products announces the launch of GreenGuard extruded polystyrene (XPS) PLYGOOD R-2 insulative sheathing, a cost effective solution to meeting the increased wall insulation requirements of the 2009 International Energy Code (IECC).
Studies have shown that PLYGOOD R-2 insulative sheathing, when used as a layer of continuous insulation (ci) over oriented standard board (OSB), is the easiest and most cost effective solution for complying with the prescriptive methods of the 2009 (IECC) in Climate Zones 5-6 and Marine 4, covering the northern half of the continental US.
GreenGuard PLYGOOD R-2, an extension of the company's PLYGOOD insulative sheathing product line, is an extruded polystyrene board featuring a polystyrene foam core and field-proven, durble plastic film facers. The R-2 sheathing product is 7/16 inches thick and available in two sizes—4' x 8' (PG48) and 4' x 9' (PG49).
The Prescriptive Methods for meeting the 2009 IECC is Climate Zone specific, and may contain options for cavity wall insulation value plus exterior insulation. The amount of exterior or cavity wall insulation depends on Climate Zone and construction method. For more information on the Energy Code requirements for your Climate Zone, or to find your applicable Climate Zone, visit www.energycodes.gov.