Other Products: Makita Job Site Miter Saw Stand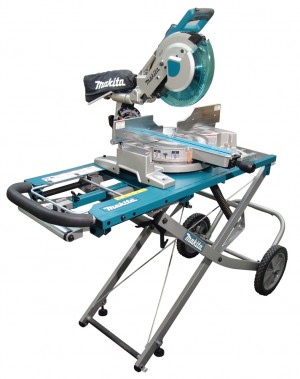 Makita's new Jobsite Miter Saw Stand, model 195083-4 adjusts to five positions with a spring-loaded mechanism for quick and easy set ups in seconds.
It includes a large platform base and material support extensions with feed roller to support long crown molding. The new stand is equipped with a large rubberized handle and solid rubber 12-inch wheels for easy jobsite portability.
"Makita's new LS1016L miter saw is the result of careful development and field research with building contractors and professional woodworkers, and this new jobsite miter saw stand was engineered with this same development and research in mind," said Joe Soto, product manager – pneumatics and residential construction. "This is a versatile and durable jobsite miter saw stand for a range of pro trades, wherever the job takes them."
Makita's new Jobsite Miter Saw Stand is engineered to fit most Makita miter saws, including the new 10" Dual Slide Compound Miter Saw (model LS1016L), Makita's newest miter saw that delivers the largest crown cutting capacity (vertically nested) in its class. The new stand is the perfect companion to a Makita miter saw for a broad range of trades including finish carpenters, professional woodworkers, case and base installers, cabinet installers, cabinet manufacturers, closet installers, decking and flooring applications, siding installers, stair installers, and general contractors seeking a
best-in-class jobsite miter saw stand.