Tool Boxes: Buyers Products Truck Boxes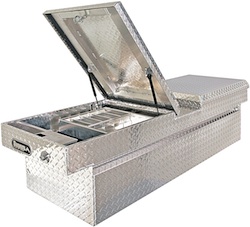 Buyers Products offers a complete line of contractor toolboxes to fit any pickup truck. Available in aluminum, steel and polymer, these boxes are ideal for securely storing and transporting landscaping and contractor tools.
Buyers Products offers a variety of toolboxes including cross boxes, lo-side boxes, pork chop boxes and topside boxes. All of the toolboxes are designed to use truck bed space efficiently while keeping tools safe with secure locking mechanisms.
The popular cross boxes suspend from pickup side rails and provide easy access to contents from either side of the truck through two gull-wing style or single lids.
Cross boxes come with J-hook mounting hardware that does not require drilling into truck side rails. Cross boxes are available in storage sizes from 6.8- to 19.1-cubic-feet.
Lo-side and pork chop boxes are designed to be space efficient with low profiles. Ranging in size from 2.75- to 6.3-cubic-feet, the boxes can be used in combination with other toolboxes to maximize truck bed space.
Topside boxes, available in various dimension combinations up to 96-inches in width, are designed to provide easy access through continuous-hinge doors. Sealed to keep dust and moisture out, the boxes also include thick rubber pads to protect truck side rails.
Established in 1946, Buyers Products Company manufactures a full line of truck accessories and equipment including its SnowDogg line of snow plows, ScoopDogg snow pushers, SaltDogg salt spreaders, DumperDogg dump inserts and a comprehensive line of toolboxes. For more information, visit www.buyerstruckboxes.com.