Tool Boxes: Rockler Undermount Utility Tray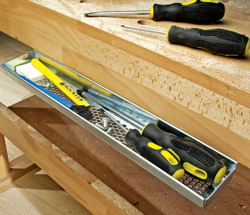 Rockler introduces the Undermount Utility Tray, a workbench accessory made to keep benchtop tools and other items at the ready without sacrificing valuable space on the work surface.
The Undermount Utility Tray easily attaches to the underside of almost any work surface, leaving the entire top surface clear for project work. The bottom panel of the steel tray is perforated to allow sawdust and other debris to fall through, keeping tools and other materials cleaner than solid trays.
Technical Details:
The Undermount Utility Tray measures 16'' x 4-1/4'' x 1-1/4'' overall.
Useable storage space measures 16'' x 3'' x 1-1/4''.
Works perfect as a hardware tray for the assembly bench.
Built of 16 ga. galvanized steel for incredible durability.