Tool Boxes: KT Pro EVA Wave Foam Tool Storage Trays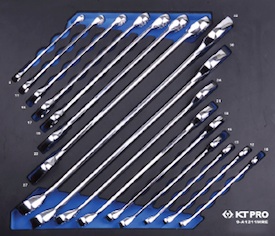 Tired of the same old tool storage designs? Your search ends at King Tony America. KT Pro introduces the unique EVA wave foam tool storage tray. EVA (ethylene vinyl acetate) is a chemical, oil, and water resistant material that we've molded into a unique wave pattern to hold your tools securely, and beautifully, in place.
Made to fit standard tool box drawers; wrench sizes are clearly marked, and come in 9, 13, and 16 pc (metric) and 9, 13, and 14 pc (SAE) varieties.
The EVA wave foam trays are ready to order now; for the name of your nearest distributor please contact sales@kingtonyamerica.com or call toll free at (877) 708-6657. For more information please visit www.kingtonyamerica.com.