Tool Boxes: Buyers Products Underbody Toolboxes With Three-Point Latch System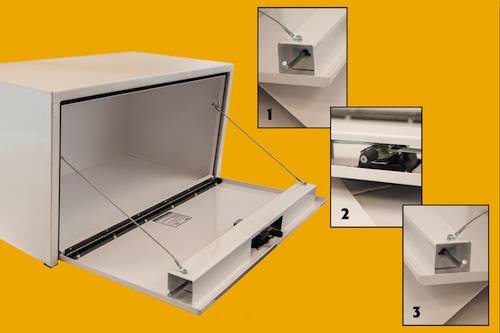 Buyers Products introduces three-point latch underbody toolboxes, expanding its comprehensive line of tool and truck boxes.
Buyers three-point, die-cast, locking, T-handle latch system provides better security, tighter door sealing and less stress on the hinges of the underbody toolboxes.
Available a variety of size options, the new underbody toolboxes are offered in polished, diamond-tread aluminum or 14-gauge steel box with 12-gauge steel door in black or white powder-coat finish.
The toolboxes feature a ½-inch, automotive-style, door gasket to protect against leaks. The rain-channel design and continuous, hidden hinge also protect against moisture and road dirt.
"The three-point, T-handle latch design on these underbody toolboxes provides contractors with better security for their equipment," said Brian Smith, marketing manager at Buyers Products. "The special features on these boxes are part of the quality design that Buyers customers recognize and expect from our products."
For more information, visit www.buyersproducts.com. Email: sales@buyersproducts.com