Tool Boxes: Stanley Vidmar Modular Mezzanine System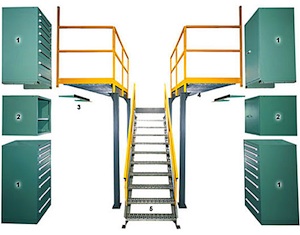 Want the "Cadillac" of tool and parts storage systems for your warehouse? The Stanley Vidmar Mezzanine System is custom-created around facilities' space requirements and traffic patterns with aisle and pass-through modules. Completely modular, mezzanines can be reconfigured as often as necessary — even when fully loaded.
Basic mezzanine systems consist of five modules with all components simply bolting together through preexisting access holes. Modules include:
Two Stanley Vidmar cabinets
Middle shelf cabinet providing head clearance height and space for overflow inventory
Walkway support system or bracket that easily slides into each upper-level cabinet
Heavy-duty grating that drops into place like ceiling tiles
Stairs and railings
Mini-mezzanine system also available requiring no walkway or grating system and can be configured with any new or existing Stanley Vidmar cabinets.
Stanley Vidmar offers both new and potential customers a free onsite analysis to ensure that all storage needs are being addressed. Interested businesses should visit StanleyVidmar.com/contact or call 800-523-9462.