Cables & Lights: CEP 6507 and 6508 power centers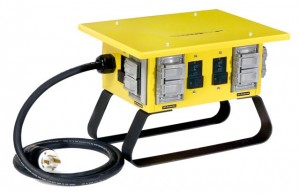 Construction Electrical Products' (CEP) four-circuit temporary power boxes offer an economical alternative to the traditional seven (7) circuits feed through boxes.
These boxes are available with a 30- or 50-amp four-wire plug on a 6-foot hard-wired power supply cord. They have four circuits with either L5-20R twist lock or 5-20 duplex receptacles.
The 50-amp version is capable of distributing 80 amps of 120-volt power and the 30-amp version can distribute 60 amps.