Cables & Lights: Princeton Tec EOS II headlamp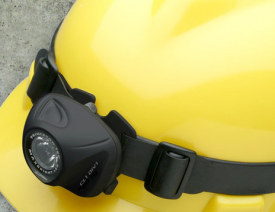 Intrinsically safe, the EOS II is designed and constructed to meet the most rigorous of demands both in application and environment.
The head unit is self contained, waterproof, and constructed of high grade materials.
The technology inside offers the best in long burntimes and utilizes advanced circuitry that regulates the output providing superior and constant brightness on it's two modes.
The Maxbright LED puts out 50 Lumens and a spot beam that reaches as far as 65 meters.
The EOS II is powered by 3 AAA batteries allowing for a compact footprint, and includes a rubber strap for hard hat use along with industrial 3M Dual Lock and a nylon strap for use as a standard headlamp.
POWER: 50 Lumens
LAMP: 1 Maxbright LED
BURN TIME: 115 Hours
BATTERIES: 3 AAA Alkaline or Lithium
WEIGHT: 105g
UL RATING: APPROVED
Class I Division 1 Groups: A, B, C & D
UL TEMP CODE: T4