Calculated Industries Dimension Master 165-BT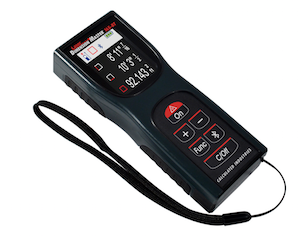 Introducing Bluetooth technology into laser dimension measuring helped move Calculated Industries' Laser Dimension Master 165-BT to the front of the class.
Since the advent of tape measures, few advancements in measuring technology have made measuring easier, quicker and more accurate than the Laser Dimension Master 165-BT. By combining the precision of laser measuring with the convenience of Bluetooth® wireless technology, the LDM 165-BT can take accurate measurements that are sent to the mobile device of your choice.
"Coupling the convenience of Bluetooth with the accuracy of a laser in this LDM is a game changer," said Steve Kennedy, President of Calculated Industries. "It allows a single person to measure up to 165 feet, upload the measurements to their phone and then send it to an estimator within a few seconds to keep a project moving forward with instant accuracy."
The LDM 165-BT is equipped to measure length, calculate area, determine basic indirect height, and compute volume all within 1/16 of an inch accuracy. When measuring area, the unit displays the length, width and area on the screen. A volume measurement will indicate the width, length, height and cubic volume on the display.
Aside from using Bluetooth to communicate measurement details to your smartphone, tablet or laptop, the LDM 165-BT is also able to store the last 50 measurements in its memory for convenient recall.
LDM 165-BT has a measuring range from 4 inches to 165 feet. Plus it has four measuring units including feet-inch-fractions, meters, decimal feet and inch-fraction. You can choose to measure the distance from the front or back of the unit.
The unit itself measures 4.6" x 1.78" x 1.0". It comes with a free App that enables you to interface with an Apple and Android mobile device. To ensure battery life, the LDM will auto-shutoff after 3 minutes. It has a 2-year limited warranty.