Extech DT40M, DT60M and DT100M Laser Distance Meters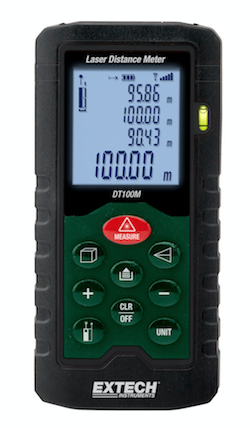 Extech Instruments, (www.extech.com), announces the launch of the DT-M series of pro-grade laser distance meters.
The three new Extech meters make it easy to measure distances, compute area and volume, measure angles, and stake out distances between objects. Users can quickly take measurements with one-button, point-and-shoot convenience, saving time and dollars resulting from estimating errors.
The DT-M series includes three meters with distance capabilities for a range of jobs: DT40M: 131ft, 40m, DT60M: 196ft, 60m and DT100M: 330ft, 100m. The DT-M meters' bright laser and large, backlit, 4-line display make it easy to measure targets with 0.08" (2mm) accuracy.
With their compact, rugged double-molded design and wrist strap, users can take these distance meters anywhere. The pocket-sized meters are ideal for one-hand operation and measurements can be taken from the front or rear edge. A built-in bubble level ensures the accuracy of horizontal measurements.
Useful functions include Min/Max readings; indirect height measurements using Pythagorean calculations (standard height, height in two segments, and partial height) from two or three other measurements; 20 successive reading memory; easy addition and subtraction of multiple readings; and auto power off to conserve battery life.
With the stake-out function, users can mark recurring distance intervals, such as the distance between studs for wall framing, between fence posts, lampposts on a path, etc. The meter's beeping cues and numerical readings indicate if a distance is greater or less than the desired interval.
The laser distance meters are designed for construction workers, contractors, realtors, home appraisers, renovation and remodeling professionals, electrical and HVAC estimators and others who routinely need quick measurements at a job site. The DT-M series is backed by Extech's one-year warranty and comes with two AAA batteries.
Learn more about the laser distance meters here: