Spectra Precision LT52G and LT58G Green Beam Lasers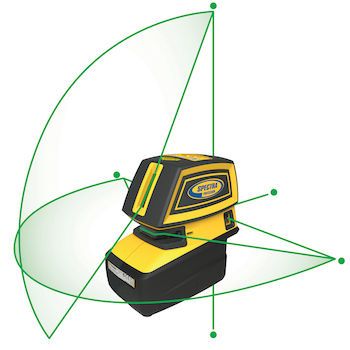 Trimble announces two new green beam lasers that are part of its industry-leading line of layout tools for commercial construction professionals. Robust, automatic self-leveling lasers with high-visibility green laser beams, the Spectra Precision LT52G and LT58G are designed for use in a wide variety of interior construction applications.
Green beam lasers are up to four times more visible to the human eye than their red beam counterparts and are ideally suited for interior conditions with bright ambient lighting, providing a laser that is more visible in more construction environments.
Combining two in-demand construction tools into a single solution, the new Spectra Precision LT52G is both a 5-beam laser pointer and a horizontal and vertical crossline laser. It also comes equipped with a full range of mounting accessories in a hard carrying case. This combination green beam laser tool enables contractors to perform multiple tasks such as wall layout, horizontal and vertical leveling, and 90 degree squaring.
Projecting three 360-degree planes of ultra-bright green laser light, the Spectra Precision LT58G is ideal for interior level, alignment, plumb and 90 degree layout. The laser's horizontal plane is intersected by two vertical planes spaced 90 degrees apart, providing references for many interior layout tasks. The laser is compact, lightweight and can be easily setup using the included wall mount on high-ceiling grids.
"With these new high visibility green beam lasers, customers now have an ideal option for brightness, versatility, toughness and reliability on their job sites," said Simon Hyatt, general manager of Trimble's Precision Tools business. "Wall crews, ceiling installers, builders, mechanical installers, plumbers, electricians and anyone needing alignment and elevation reference can use these tools to increase their productivity and accuracy."
The LT52G and the LT58G round out the series of green beam lasers, which also include the Spectra Precision LP51G, a compact 5-beam laser pointer that is used for floor to ceiling point transfer and 90 degree layout; and the LT20G, a crossline laser that projects a horizontal and vertical beam and is used for horizontal and vertical alignment, wall and door layout, acoustical ceiling installation and finish carpentry.
The LP51G laser package includes a magnetic mounting bracket, and the LT20G package includes an adjustable ceiling mount and a versatile magnetic mounting accessory for mounting on tripods, column studs or poles
With all of these green beam laser tools, automatic self-leveling allows for accuracy and fast setup. If a laser is bumped or disturbed, an "out-of-level" warning alerts the user. The rugged housings, with generous overmold, are designed to protect the units and endure the rigors of the tough construction environment. The tools are specified to withstand a 1 meter (3 foot) drop test. All of these lasers come with a 3-year over-the-counter exchange warranty.
Red beam laser models are also available as a value selection when bright conditions are not a factor.
LT52G is available now through the Spectra Precision Dealer Network. The LT58G is expected to be available in May 2018.
For more information, visit: www.spectralasers.com