Cerrowire Ampacity Calculator App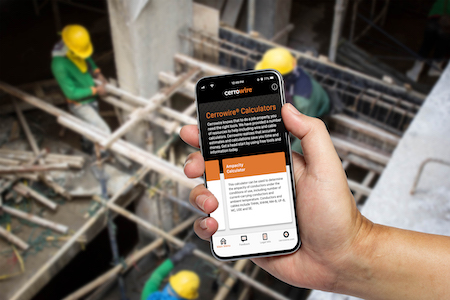 Cerrowire, a leading U.S. manufacturer of building wire, has developed the Cerrowire Ampacity Calculator app to help electricians determine the ampacity of conductors in conduit, cable, or directly buried. All results provided are based on the National Electrical Code®.
Within the app, simple dropdown fields allow the user to select the conductor type, wire/cable type, conductor size, ambient temperature, and the number of current-carrying conductors. These inputs, along with the number of parallel runs, are used to determine the ampacity – or maximum current that a conductor can carry continuously under the conditions of use without exceeding its temperature rating. This important data helps electricians choose the correct size wire for the current (load) requirement of the circuit to prevent the wire from overheating.
"The Ampacity Calculator app is the second in a series of tools we are developing to help our customers on the job site and in the office. This new calculator module has been added to the existing Cerrowire Calculators app along with the raceway fill calculator that was introduced last year," stated Cerrowire Vice President of Engineering Christel Hunter, CStd.
The free tool from Cerrowire is available in both the Apple App Store and on Google Play for smart phones and tablets. The Cerrowire Ampacity Calculator also is available as a web-based tool on Cerrowire.com.