Kapro Tools 353 LEDGE-IT Square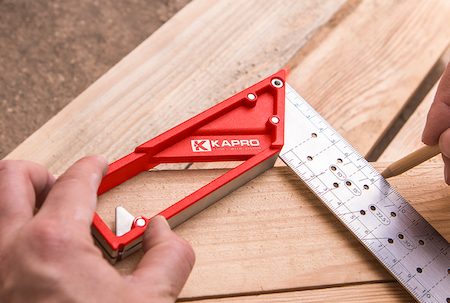 Kapro Tools introduced its 353 LEDGE-IT Square with a retractable metal ledge support.
The 353 LEDGE-It Square is a certified 90°durable square, designed for professionals. It features a unique retractable ledge support, which is extremely useful for stabilizing the tool on any surface.
The 353's handle is made of cast aluminum with three precision-milled surfaces, 45° and 30° cast-in handle platforms.
The stainless-steel ruler has permanently etched gradation for long lasting accuracy. The first 4 inches are incremented 1/32 for fine and accurate measurements, extending to 1/16 of an inch for the remainder of the blade's length.
The 353's blade has marking holes at 10°, 15°, 22.5°, 30°, 45°, 50° and 60° for angle marking and includes openings every ¼ inch for fluid and parallel pencil markings.
"The 353 LEDGE-IT Square is one of the most innovative additions to Kapro's line of layout tools and is one of the most advanced squares to hit the market in recent years," said Gal Wollach, vice president of business development at Kapro Tools. "Thanks to the retractable metal ledge support, the 353 ensures that your work remains square and precise, saving time, expenses and materials."
To learn more about Kapro's innovative line of products, visit Kapro.com.