Other Products: Coxreels 1175 & 1185 Series Reels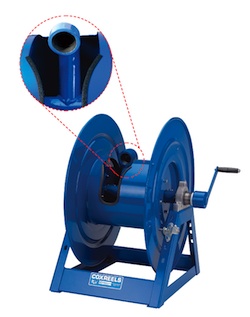 Coxreels is pleased to announce a new re‐engineered outlet riser on the 1175 and 1185 Series reels. These two Series have been enhanced and now come equipped with a remodeled low profile outlet riser offering improved full‐flow characteristics.
The 1175 and 1185 series feature a new on-piece swept outlet riser and replace the machined flange riser and o-ring flange seal for maximum full-flow fluid path. This innovative low profile outlet riser along with the open drum slot design also allow for a non-crimping, flat smooth hose wrap.
These reels, featuring a sturdy one‐piece all welded "A" frame base for maximum stability, handle 1" and 1-1/2" hose I.D and are perfect for high-flow watering and high volume fluid delivery applications.
Coxreels has remained steadfast and focused on manufacturing high quality industrial grade hose, cord, and cable reels with industry innovation since 1923. Offering a full product line serving the industry in every channel and application, Coxreels takes great pride in designing, building, and supporting all of their products right here in the U.S.A.
For further information on the Coxreels product line, contact Customer Service at (800) 269‐7335 or visit www.coxreels.com.