Other Products: Hypertherm Powermax30 XP Plasma Cutting System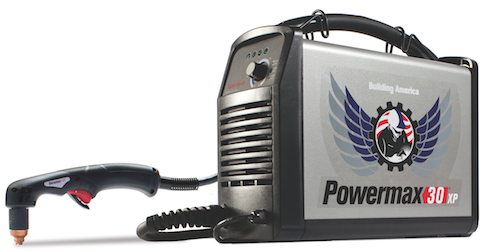 This professional-grade plasma system for handheld cutting 3/8" metal has an easy-to-use, two-in-one design. It offers hHigh-power cutting on thick metal plus FineCut consumables for detailed, thin metal cutting. Plug it into any 120 or 240 V power. Its Auto-Voltage technology and included plug adapters do the rest.
Finish jobs faster
50% increase in cutting power* for fast cut speeds.
Less edge preparation – patented consumables designs provide superior cut quality.
Twice the consumable life* and 70% more efficient on average for lower cost of cutting.
Rugged and reliable
New Duramax LT torch designed to withstand impact and heat.
Hypertherm Certified reliability ensures performance in the most demanding environments.
Durable carrying case protects the system and gear.
The system includes:
Power supply, 15' Duramax LT hand torch with standard consumables, 15' work clamp
240 V/20 A plug with adapters for 120 V/15 A and 240 V/20 A circuits
Operator and safety manuals
Consumable kit with 1 standard nozzle, 1 electrode, 1 FineCut nozzle and 1 FineCut deflector
Plastic carry case
Carrying strap
Leather gloves
Shade 5 glasses