Other Products: Hypertherm Powermax 2- and 4-Foot Hyamp Torches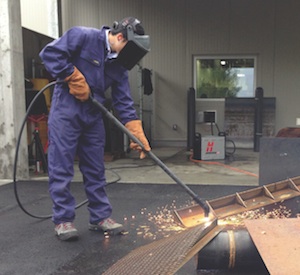 Hypertherm is expanding its industry leading line-up of Powermax air plasma torches with the introduction of Duramax Hyamp torches. The new offerings include "long" torches for extended reach cutting and a number of robotic torches.
The long torches, designed for hand-held cutting, come in two different lengths—2 feet and 4 feet—and two different torch head angles—45 and 90 degrees. The torches are ideal for scrapping, skeleton cutting, overhead cutting and more, enabling operators to complete jobs more quickly and ergonomically without bending down or climbing ladders.
The Duramax Hyamp Robotic torches, which provide lower cost robotic cutting solutions, are available with three different head angles—45, 90, and 180 degrees.
All of the Duramax Hyamp special application torches are made from high impact, heat-resistant materials to withstand the harshest industrial environments. The torches are compatible with the Powermax125, as well as the Powermax105, Powermax85, and Powermax65 plasma cutting and gouging systems and feature Hypertherm's patented FastConnect technology to make switching between torches easy.
"A one size fits all approach can make it difficult for people to cut metal in an efficient manner which is why Hypertherm offers more torch options than any other company," said Erik Brine, Hypertherm's Powermax product manager. "A total of eleven different torch styles including the industry's first straight torch and now our new long torches make it easy to choose the torch that makes the most sense for each particular application."
Hypertherm designs and manufactures advanced cutting products for use in a variety of industries such as shipbuilding, manufacturing, and automotive repair. Its product line includes plasma, laser and waterjet cutting systems, in addition to CNC motion and height controls, CAM nesting software, and consumables. Hypertherm systems are trusted for performance and reliability that result in increased productivity and profitability for hundreds of thousands of businesses.
The New Hampshire based company's reputation for cutting innovation dates back nearly 50 years to 1968, with Hypertherm's invention of water injection plasma cutting. The 100 percent associate owned company, consistently named one of the best places to work in America, has more than 1,300 associates along with operations and partner representation worldwide.