Other Products: DMT Double-Sided Dia-Sharp MagnaBase System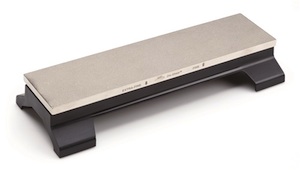 DMT's new Double-Sided Dia-Sharp MagnaBase System combines a large two-sided continuous diamond sharpening stone with a one-of-a-kind magnetic base. The stone enables longer and more consistent sharpening strokes, while the base affords quick and easy grit changes plus stability.
As a whole, the system offers the ultimate in two-stage sharpening. And, like all DMT products, the new Double-Sided Dia-Sharp MagnaBase System delivers Made in America quality and performance.
With each side measuring 12 inches by 3 inches, the system's Double-Sided Dia-Sharp Bench Stone provides a full 72 square inches of sharpening surface. The system is available in two different grit combinations: Coarse/Extra-Coarse (45 micron/60 micron) and Extra-Fine/Fine (9 micron/25 micron).
The Dia-Sharp's precision-flat, continuous diamond surface can accommodate all sharpening needs for discerning woodworkers, builders and knife enthusiasts and is also ideal for sharpening small or pointed tools.
The system's MagnaBase is designed exclusively to fit the 12-inch Dia-Sharp Stone. This unique magnetic base makes it a snap to change grits by flipping over or replacing the stone with a different grit combination. Its secure foundation boosts safety and stability during the sharpening process.
"The Magna Base System was designed with quite a bit of customer input," said DMT President Mark Brandon. "Sales of our Dia-Sharp bench stones have had strong growth, and we received many requests for a stone and base combination similar to our very successful DuoSharp line. We think this product is the answer to those requests."